The music ministry at First United Methodist Church has a rich tradition of excellence in its music for the Lord!
ADULT MUSIC
Chancel Choir Wednesday 7:15 pm-8:45 pm
Music Room, open to college age and above.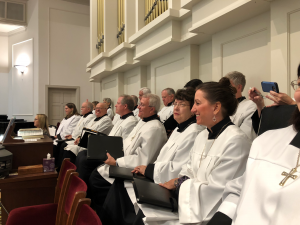 The Chancel Choir forms the foundation of our church's music ministry. The 25+ voice adult choir sings weekly for the 10:30am Traditional worship service and participates in special worship services throughout the year. We welcome all who love to sing; no audition is required. We work together to grow musically and spiritually — as we share God's love through music with one another and with our congregation.
STUDENT MUSIC
Revelation Youth Choir Sunday 5 pm-6 pm
Music Room, open to all students grades 6-12.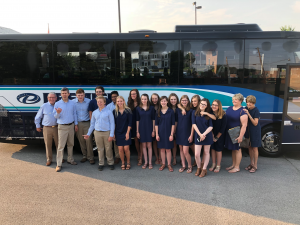 Revelation Youth Choir is an excellent way for teens to grow together both spiritually and musically. The Youth Choir performs a variety of worship song styles and enjoys music leadership opportunities in all of our worship services.  We also lead our Love Feast service each Advent and the Maundy Thursday service during Holy Week. Each choir year culminates in a choir tour.  Past locations include:  Boston, Niagara Falls, San Antonio, New Orleans, and more.  In June of 2022 we will be traveling to Washington D.C. for music, ministry, and fun!
HANDBELLS
Carillonneurres (a five octave handbell ensemble) – Wednesday nights from 6:00-7:00PM
Music Room, open to Adults.
Carillonneurres is the primary handbell ensemble at our church. It rings regularly in worship, as well as our annual Love Feast during Advent, and Maundy Thursday at Holy Week.  They also offer a spring concert of Handbell music.  Prior handbell experience and music reading are prerequisites for this group. Carillonneurres participates in weekend retreats, and festivals.
Youth Handbells – Sundays 6pm-6:45pm
Open to Students 6th-12th grades who have rung previously in Kids Handbells or with Director permission. We will ring in worship once a semester.
Kids Handbells – Wednesdays 5:30pm-5:55pm
Music Room, open to 3rd-5th graders. No experience necessary.  This is a wonderful place to learn the fundamentals of music and handbell ringing while having fun with other kids.  We will ring once a semester in worship and for Old Fashioned Christmas.
CHILDREN'S MUSIC – Wednesdays 6pm-6:45pm
Kids Choir
Open to children 2nd grade-5th grade.
Cherub Choir
Open to children age 4- 1st grade. We have a comprehensive Children's Choir program on Wednesday nights which include singing, movement and rhythm instruments.  In the process, we learn about worshipping God.  We sing in worship 2 or 3 times a semester.  We present a Christmas Musical at our Old Fashioned Christmas celebration the first Sunday night of December.
THE CONNECTION PRAISE BAND
We have a great team of singers and musicians who use their gifts to help people worship the Lord.  They practice on Wednesday nights at 7:15pm.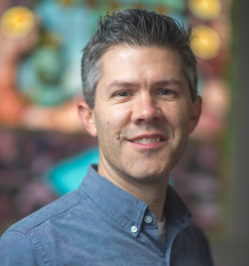 Ben Stapleton
Director of Traditional Music Ministries